There was CA$395 million ($287 million) in legal marijuana and marijuana products purchased in Canada in January, a 14% increase from January, 2022.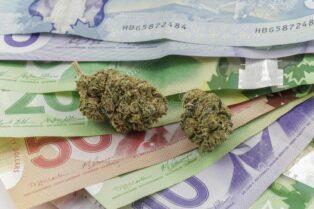 Although the total number of marijuana sales is up from last January, it's down 7% from December. Sales in December reached a monthly record of CA$425.9 million. This is according to data released by Statistics Canada.
The province with the most marijuana sales in January was Alberta with CA$69.5 million, followed by British Columbia at $60.6 million and Quebec at $49.5 million.

Sales data for other provinces includes:
Manitoba – CA$16.8 million
Nova Scotia – CA$9 million
New Brunswick – CA$6.5 million
Newfoundland – CA$6 million
Prince Edward Island – CA$1.7 million
In the Yukon territory sales were CA$843,000.
The report did not track data for the Northwest Territories and Nunavut.
According to a study published this month in the journal Drug and Alcohol Review there were 3,305 cannabis stores open in Canada as of the end of 2022. The study found that 59% of neighborhoods in the country live within a 5-minute drive of a marijuana store. Canadians spent $11.85CAD a month on cannabis per individual aged 15+ years between the start of sales in 2018 and the end of 2022.
According to the Canada Revenue Agency (CRA), the federal government assessed approximately CA$862.3 million in total duty on cannabis products between the 2018-19 and 2020-21 fiscal years. When adding data for 2022 this rises above CA$1 billion.
Thank you for reading! You can contact The Marijuana Herald at [email protected], and you can signup for e-mail updates below.