A new International Journal of Molecular Sciences study has found that the cannabis compound cannabidiol "has a strong inhibitory effect against cariogenic bacteria".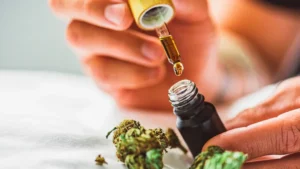 Cariogenic bacteria is caused by biofilm-forming acidogenic bacteria that attacks dental enamel by converting sugar and starch into acids that dissolve out calcium from the enamel. This is one of the most prevalent human bacterial diseases.
Given that the "potential use of cannabidiol (CBD) in anti-bacterial therapies has recently emerged", researchers "studied the anti-bacterial and anti-biofilm activity of CBD against S. mutans."

For the study, which was conducted by researchers at The Hebrew University of Jerusalem, "the bacterial growth and changes in pH values were measured in a kinetic study." The biofilm biomass was assessed by Crystal Violet staining and metabolic assay. To test the CBD researchers used CBD isolate with a 99% purity.
Researchers found that "CBD inhibited S. mutans planktonic growth and biofilm formation in a dose-dependent manner, with similar MIC and MBIC values (5 µg/mL)." CBD also "prevented the bacteria-mediated reduction in pH values that correlated with bacterial growth inhibition. SDCM showed a decrease of 50-fold in live bacteria and EPS production."
In addition, "CBD significantly reduced the viability of preformed biofilms at 7.5 µg/mL with an 80 ± 3.1% reduction of metabolic activity. At concentrations above 20 µg/mL, there was almost no bacterial recovery in the CBD-treated preformed biofilms even 48 h after drug withdrawal. Notably, precoating of the culture plate surfaces with CBD prior to incubation with bacteria inhibited biofilm development."
Additionally, CBD was found to induce membrane hyperpolarization in S. mutans. Thus, "CBD affects multiple processes in S. mutans including its cariogenic properties."
Researchers state that "In conclusion, we show that CBD has a strong inhibitory effect against cariogenic bacteria, suggesting that it is a potential drug adjuvant for reducing oral pathogenic bacterial load as well as protecting against dental caries."
Another recent study published in the journal Microorganisms found that low-doses of CBD inhibits the growth of Salmonella typhimurium.
The full text of this study can be found by clicking here.
Thank you for reading The Marijuana Herald! You can sign up for our newsletter at the form below, and you can find more news stories by clicking here.