Washington State collected a total of $511.1 million in taxes from the legal marijuana industry in fiscal year 2022.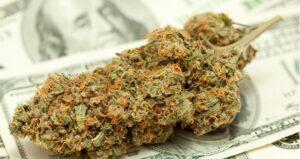 This is according to the Liquor and Cannabis Control Board's FY 2022 Annual Report. The report shows that the taxes garnered from marijuana sales were $251.2 million more than that of liquor sales. The marijuana tax revenue for fiscal year 2022 was nearly $50 million more than the previous fiscal year. The state made an additional $4.1 million in 2022 from marijuana licensing fees.
Revenues collected by the Liquor and Cannabis Board from legal cannabis taxes, license fees, and penalties are distributed as follow, according to the report:

General Fund – $157 million
Basic Health – $264 million
Local Governments – $20 million
Washington State Health Care Authority – $53 million
Department of Health – $9 million
Washington State Patrol – $2.2 million
Washington Liquor and Cannabis Board – $11.8
Other – $1.5 million
Nearly half of all marijuana revenues go to the Basic Health Plan Trust Account. That account is described by the Office of Financial Management as providing "necessary basic health care services to working persons and others who lack coverage, at a cost to these persons that does not create a barrier to the utilization of necessary health care services."
Washington State, which was one of the first two states to legalize marijuana in 2012 alongside Colorado, places a 37% excise tax on the sale of each cannabis product.
According to the report there are currently 1,854 active cannabis licenses in Washington State, including 481 retailers, 168 producers, 235 processors and 889 producers/processors.
The report also found that compliance rates for the marijuana industry (92%) were considerably higher than the liquor (77%), tobacco (80%) and vapor (75%) industries.
The Liquor and Cannabis Control Board's full report can be found by clicking here.