In Canada sales of marijuana pre-rolls infused with hash, kief and/or oil rose a jaw dropping 1,000% between September, 2021 and September, 2022.
The growth marks "the most significant growth of any segment within the cannabis industry over the last year or two, given that it is growing very quickly and it is also very large," says Cooper Ashley, analytics manager for the cannabis analytics firm Headset.
According to Headset, which tracks sales in Alberta, British Columbia, Ontario and Saskatchewan, sales of infused pre-rolls represented 2.4% of the country's legal marijuana market in September of last year. As of last month, that has grown to nearly one fifth (19.2%) with 16.6 million Canadian dollars worth of sales during the 12-month period.

According to new data Alberta-based Decibel leads the infused pre-roll market, with its General Admission and Qwest brands occupying the #1 and #2 spots for infused pre-roll brand sales over the past year. The #3 spot belons to Dab Bods.
As noted by MJ Biz Daily, Canadian cannabis laws and regulations effectively limit bulk sales of infused joints. For example, a package of three 0.5-gram infused pre-rolls has a net weight of 1.5 grams. However, Canada's cannabis equivalency rules mean the 1.5-gram package is equivalent to six grams of dried cannabis flower, since infused pre-rolls are treated as a cannabis extract. "With consumers limited to possessing 30 grams (or the equivalent) in public, a cannabis shopper can buy only five packs of those infused pre-rolls at once."
Infused pre-rolls are limited to containing 1,000 milligrams of THC per package.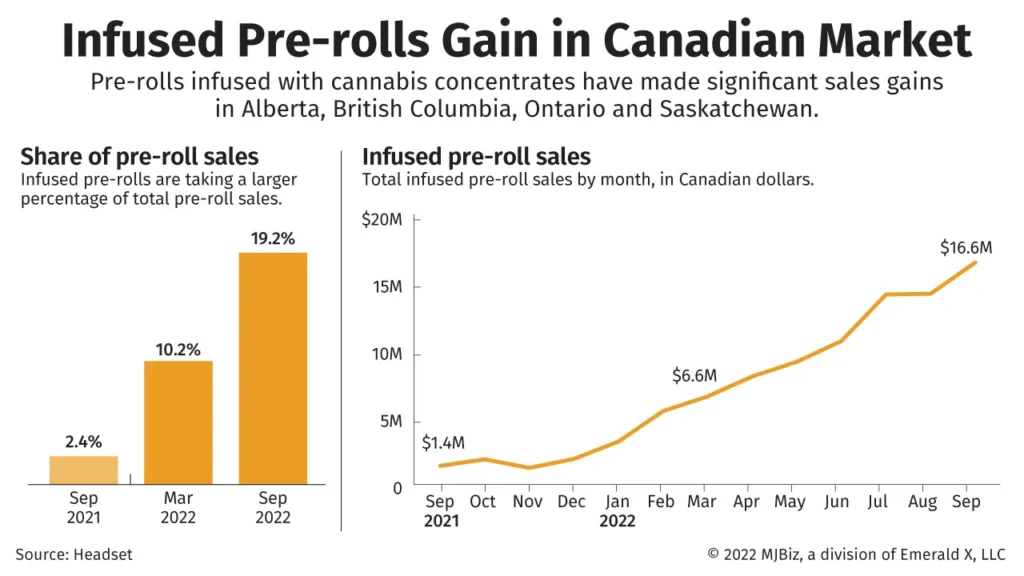 Thank you for reading The Marijuana Herald! You can sign up for our newsletter at the form below, and you can find more news stories by clicking here.