Despite marijuana remaining illegal in many parts of the country, U.S. marijuana sales garnered $2.8 billion in taxes in fiscal year 2022.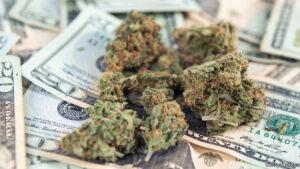 This is according to a new report conducted by The Urban-Brookings Tax Policy Center. The report found that during the most recent full fiscal year, which ran from July 2021 to June 2022, California garnered the largest amount of marijuana taxes at $774 million. Alaska brought in the smallest amount among the legal marijuana states with $30 million.
In Colorado and Washington State, the first two states to legalize marijuana back in 2012, marijuana tax revenue now exceeds revenue for alcohol and tobacco sales.
"Broadly speaking, the experience of Colorado and Washington demonstrate that a state can collect a significant amount of revenue from marijuana taxes and that collection should mostly increase over time," states the report.
"While 19 states have enacted a tax on recreational marijuana, there is no standard cannabis tax in the US the way there is an alcohol tax, cigarette tax, and gas tax", states the report. "Instead, governments use three different types of cannabis taxes: a percentage-of-price tax, a weight-based tax, and a potency-based tax. Different states use different taxes and some states levy multiple taxes."
Additionally, "some state and local governments levy their general sales tax on the purchase of marijuana. This report is a guide for policymakers, journalists, and engaged community members hoping to better understand cannabis tax debates. It details each state's cannabis tax system, provides data on cannabis tax revenue, explains the pros and cons of different cannabis taxes, and discusses the various goals of those taxes."
The full report can be found by clicking here.