According to a new report the global cannabis-infused edibles market is currently valued at over $5 billion, and is anticipated to grow rapidly in the coming years.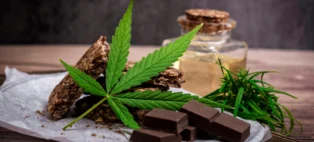 Conducted by Research and Markets, the report found that as of the start of 2023, the global marijuana-infused edibles market is worth $5.14 billion. It's expected to grow at an annual compound growth rate (CAGR) of 12.26% between now and 2028 to reach a value of $9.28 billion.
"The global cannabis-infused food have gained momentum due to the increasing popularity and consumption of cannabis by the mainstream population", states the report.
According to the report some of the key drivers in the market include:

Growing Cannabis Legalization and Elevating Popularity of Home-Grown Cannabis
Rising Millennial Population Demanding Cannabis-Infused Edibles
Increasing Penetration in Bakery, Confectionery, and Gummies
Some of the key companies in the Global Cannabis-infused Edibles Market include:
Atlas Growers Ltd.
Aurora Cannabis, Inc.
Baked Bros
Bhang Corp.
Cannabinoid Creations Cannabis Energy Drink
Canopy Growth Corp.
Charlotte's Web Holdings, Inc.
Curaleaf Holding, Inc.
The most popular form of edibles include:
Baked Products
Chocolates & Bars
Drinks
Gum & Sprays,
Sugar Candies.
More information on this report can be found here.
Thank you for reading The Marijuana Herald! You can sign up for our newsletter at the form below, and you can find more news stories by clicking here.