Proponents of a constitutional amendment to legalize recreational marijuana in Florida have submitted enough signatures to put the proposal before the state's Supreme Court, clearing an important hurdle on the way to putting the measure to a vote in 2024.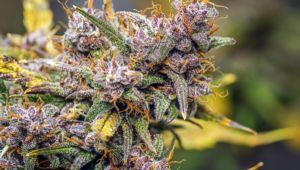 According to the Division of Elections' website, the "Smart & Safe Florida" political committee submitted 294,037 valid petition signatures as of Thursday, well more than the 222,898 signatures required to put their initiative before the Supreme Court.
Once the signatures are verified, the Supreme Court will review the wording of the proposal to ensure that includes just one primary subject and is not misleading to voters.

If the Smart & Safe Florida committee gets Supreme Court approval it would then need to collect 891,589 signatures from registered Florida voters to get on the November, 2024 general election ballot.
The initiative would allow those 21 and older "to possess, purchase, or use marijuana products and marijuana accessories for non-medical personal consumption by smoking, ingestion, or otherwise."
The proposal would allow any of the state's licensed medical-marijuana dispensaries to "acquire, cultivate, process, manufacture, sell and distribute such products and accessories."