A new report conducted by Research and Markets has found that the global market for CBD skincare products is worth over $1.3 billion.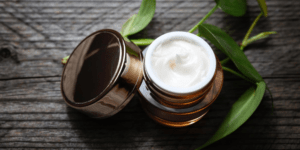 Specifically the report estimates the market value to be $1.346 as of the end of 2020. It states that in recent years increasing disposable incomes and living standards have increased the focus of people on personal well-being which includes skincare regimes and CBD skincare products.
"People,  especially youth people, are increasingly demanding new skincare products with innovative and natural ingredients", notes the report. "As such, the demand for CBD skincare products is rapidly growing worldwide."

Furthermore, "rising awareness about the various benefits of CBD as one of the ingredients in skincare products such as serums and oils is further fueling the market growth of CBD skincare. Small investors are flocking to the CBD skincare market with the emerging popularity of CBD skincare products."
The report also notes that "market players are continuously engaged in growth strategies while launching new products, thus, positively impacting the market growth of CBD skincare."

Some of the top companies the market include:
Cronos Group Inc.
lixinol Global Ltd.
Endoca BV
Isodiol International Inc.
Josie Maran Cosmetics LLC
Kiehl's
The CBD Skincare Co
Cannuka, LLC
Ignite
OVATION SCIENCE INC.

Jane Street

, LLC
By product type, "CBD-based skincare oils account for a considerable market share during the forecast period since they are considered to have both anti-ageing and acne-fighting properties, thus making them popular among women to maintain their skin youthfulness."
The online segment is projected to witness a noteworthy compound annual growth rate during the forecast period owing to the booming global e-commerce industry. Moreover, "the growing international trade of cosmetics and skin care products also offers customers the opportunity to choose from various international brands that are easily available in online stores, thereby driving the market growth of CBD skincare across this segment."
Geographically, "Europe is the major market for CBD skincare as it is legal to be used for various purposes in almost every European country. The region is also home to some international beauty brands that are investing in R&D and launching new CBD skincare lines."
North America also holds a decent market share throughout the forecast period. "The presence of major skincare companies in countries like the U.S. and Canada, coupled with rising awareness about the benefits of CBD skincare products, is driving the demand for CBD skincare products in this region", the report states.
The full report can be found by clicking here.
Thank you for reading The Marijuana Herald! You can sign up for our newsletter at the form below, and you can find more news stories by clicking here.